Shout Out Day Big Frog Wesley Chapel #1 Best
BIG FROG WESLEY CHAPEL CUSTOM PRINTED T-SHIRTS & APPAREL NJOY SPIRITS DISTILLERY MESSAGE:OPEN SATURDAY 11-6 & SUNDAY 11-6CLOSED M-F: "GOTTA MAKE WHISKEY & RUM"LAST CHANCE TO BUY TICKETS FOR FOR WHISKEY-IN-THE-WOODS CONCERT & FOOD-FEST FOR ONLY $30/PP – 21+ ONLY ATTENDANCE! NO KIDS + NO PETS = ADULT FUN!https://njoyspirits.com/event/whiskey-in-the-woods-event-2021/ It's Wednesday which is "Shout Out…
BIG FROG WESLEY CHAPEL CUSTOM PRINTED T-SHIRTS & APPAREL
NJOY SPIRITS DISTILLERY MESSAGE:
OPEN SATURDAY 11-6 & SUNDAY 11-6
CLOSED M-F: "GOTTA MAKE WHISKEY & RUM"

LAST CHANCE TO BUY TICKETS FOR FOR WHISKEY-IN-THE-WOODS CONCERT & FOOD-FEST FOR ONLY $30/PP – 21+ ONLY ATTENDANCE! NO KIDS + NO PETS = ADULT FUN!
https://njoyspirits.com/event/whiskey-in-the-woods-event-2021/
It's Wednesday which is "Shout Out Day" by the NJoy Spirits Distillery team. It's the day we strive to promote Local Vendors who you should know about and give some of your business. This week we're "Shouting Out" about:
BIG FROG WESLEY CHAPEL
At NJoy Spirits Distillery, BIG FROG Does All Our Tee Shirts. They're Great!
BIG FROG WESLEY CHAPEL
Where Fun is Always Celebrated
Whatever the occasion — birthdays, fun runs, team building events, sports, and spirit walks — you can trust Big Frog Custom T-Shirts & More of Wesley Chapel to make custom t-shirt printing fun and hassle-free!
MEET THE OWNER
Driven by the passion to help support our local community through the spirit of entrepreneurship, Nate Sprowell opened Big Frog of Wesley Chapel. Through our amazing design team, we continue to provide several local schools, clubs & associations, businesses, and charitable organizations high-quality, custom apparel. We love our community as much as our community loves us. Come see us soon and discover our unique brand of customer service.
REVIEWS
SEE WEBSITE
LOCATION
24830 State Road 54
Lutz, FL 33559
Email: wesleychapel@bigfrog.com
Phone: 813-909-9235
website: https://www.bigfrog.com/wesleychapel/
BIG FROG WESLEY CHAPEL
WEBSITE
BIG FROG WESLEY CHAPEL
DAYS & HOURS
Monday
Tuesday
Wednesday
Thursday
Friday
Saturday
Sunday
SEE WEBSITE
SEE WEBSITE
SEE WEBSITE
SEE WEBSITE
SEE WEBSITE
SEE WEBSITE
SEE WEBSITE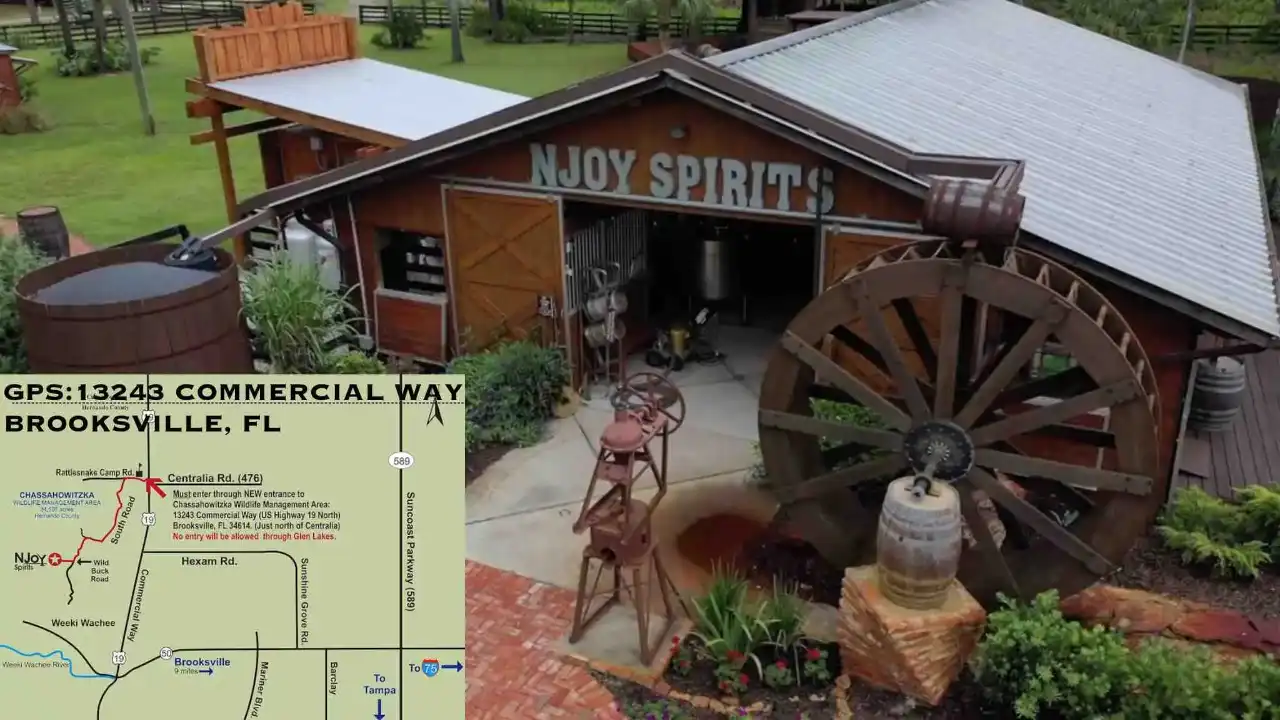 NJoy Spirits Distillery was founded in 2012 by Natalie and Kevin Goff. They bought 80 acres inside the Chassahowitzka Wildlife Management Area on which they formed Goff Ranch, home of NJoy Spirits Distillery.

NJoy Spirit's Distillery is a family-operated Florida Rye Whiskey distiller in the heart of the nature coast. We wanted to make America's finest 100% Rye Whiskey when we started making our Wild Buck American Rye Whiskey! We are confident we have achieved that (and Wild Buck Whiskey has many awards to prove it!) and have no doubt you'll agree with just one sip! Plus, try our Mermaid Rum, a multiple GOLD MEDAL WINNER!

Thanks again for your support. We are growing and would like to hear from you – please use the Contact Us page on our website.

OPEN TO THE PUBLIC: ONLY SATURDAY AND SUNDAY 11 am to 6 pm.

We hope to see you this Weekend, Rain or Shine!

NJoy Responsibly!

DIRECTIONS – GPS: 13243 Commercial Way, Brooksville, FL
DON'T USE OUR MAILING ADDRESS IN YOUR NAV SYSTEM. DIRECTIONS ARE INCORRECT!
Our GPS address is the entrance to Chassahowitzka Wildlife Management Area and is the ONLY WAY to get to NJOY SPIRITS DISTILLERY.
NO ENTRANCE TO NJOY SPIRITS DISTILLERY THROUGH THE GLEN LAKES SUBDIVISION!
No entrance fee for NJoy Spirits Distillery visitors.
Follow the NJOY signs for ~5 miles to the entrance of Goff Ranch, home of NJoy Spirits Distillery.