Shout Out Day – Mountaineers Coffee Brooksville #1 Best
SHOUT OUT DAY – MOUNTAINEERS COFFEE BROOKSVILLE It's Wednesday which is "Shout Out Day" by the NJoy Spirits Distillery team. It's the day we strive to promote Local Vendors who you should know about and give some of your business. This week we're "Shouting Out" about Mountaineers Coffee Brooksville. When you visit NJoy Spirits Distillery,…
SHOUT OUT DAY – MOUNTAINEERS COFFEE BROOKSVILLE
It's Wednesday which is "Shout Out Day" by the NJoy Spirits Distillery team. It's the day we strive to promote Local Vendors who you should know about and give some of your business.

This week we're "Shouting Out" about Mountaineers Coffee Brooksville. When you visit NJoy Spirits Distillery, their coffee, beans, and ground are on our Gift Shop shelf.
MOUNTAINEERS COFFEE BROOKSVILLE
Mountaineers Coffee Brooksville actually soaks the beans in our NJoy Spirits Distillery whiskey barrels and then roast the beans. Mountaineers Coffee Brooksville makes a Brazilian bean medium roast. In their Mountaineers Coffee Brooksville store and at the NJoy Spirits Distillery Gift Store, we have both ground and whole bean, and Mountaineers Coffee Brooksville roasts weekly, so it's always fresh.

Mountaineer CoffeeBrooksville was founded in 2013 by Daniel and Darby Pritz after a year of running a previous coffee shop. Daniel began roasting to supplement the coffee they were sourcing from another company in the area, branding the roasted coffee under the name "Mountaineer Coffee".

After 3 years of learning the roasting business and defining the vision for a new coffee shop of their own, they opened Mountaineer Coffee in downtown Brooksville, FL in 2016. The name comes from Daniel's grandpa, from West Virginia, who owned an antique business in Brooksville under the name Mountaineer Antiques. 

Mountaineers Coffee Brooksville Website:
https://www.mountaineercoffee.com/brooksville/

Mountaineers Coffee Brooksville Location:
26 S Broad St, Brooksville, FL 34601
+1.352.247.7633

Mountaineers Coffee Brooksville Days & Hours of Operation:
Daily: 7:00 am to 7:00 pm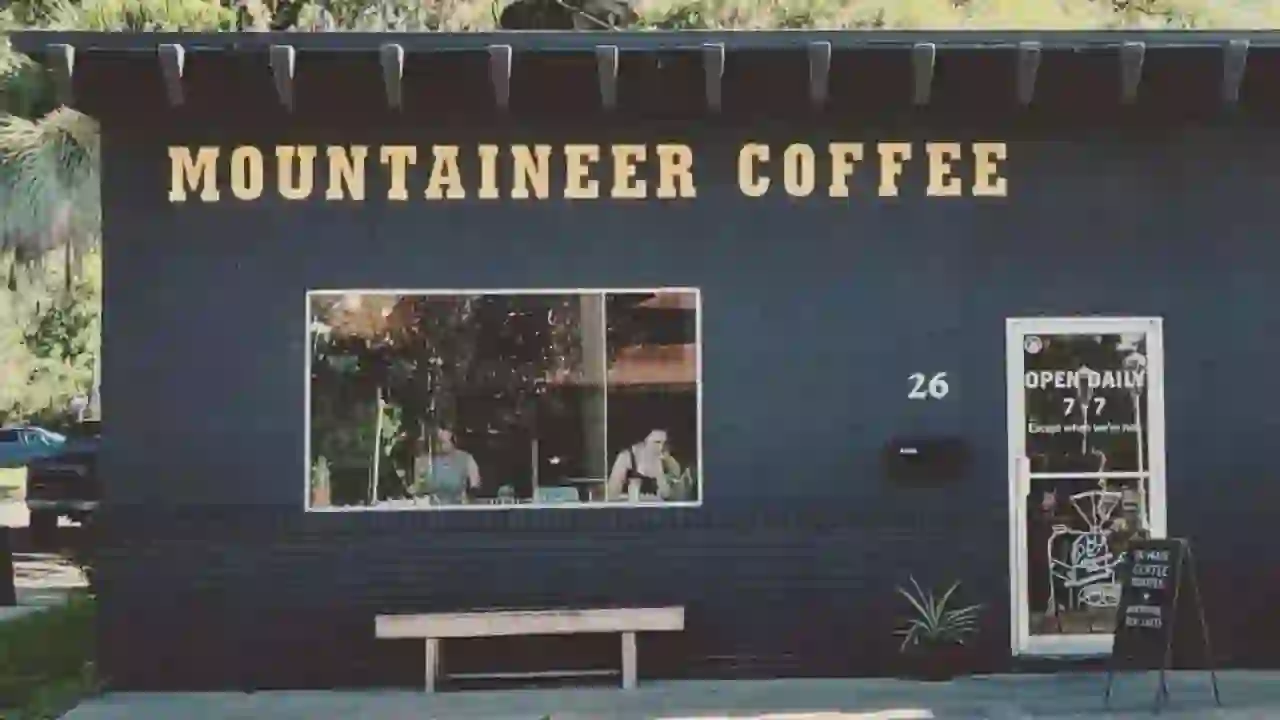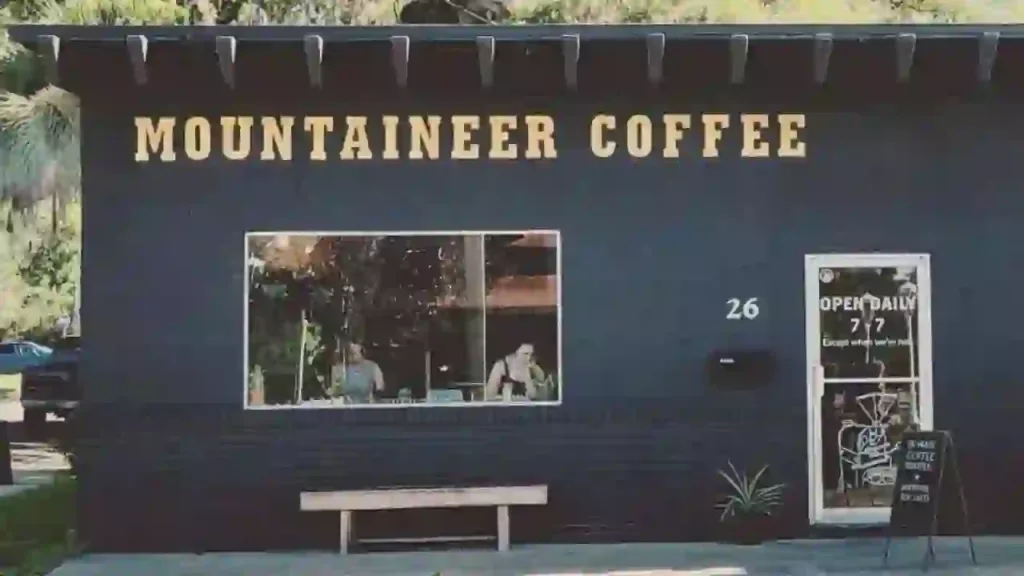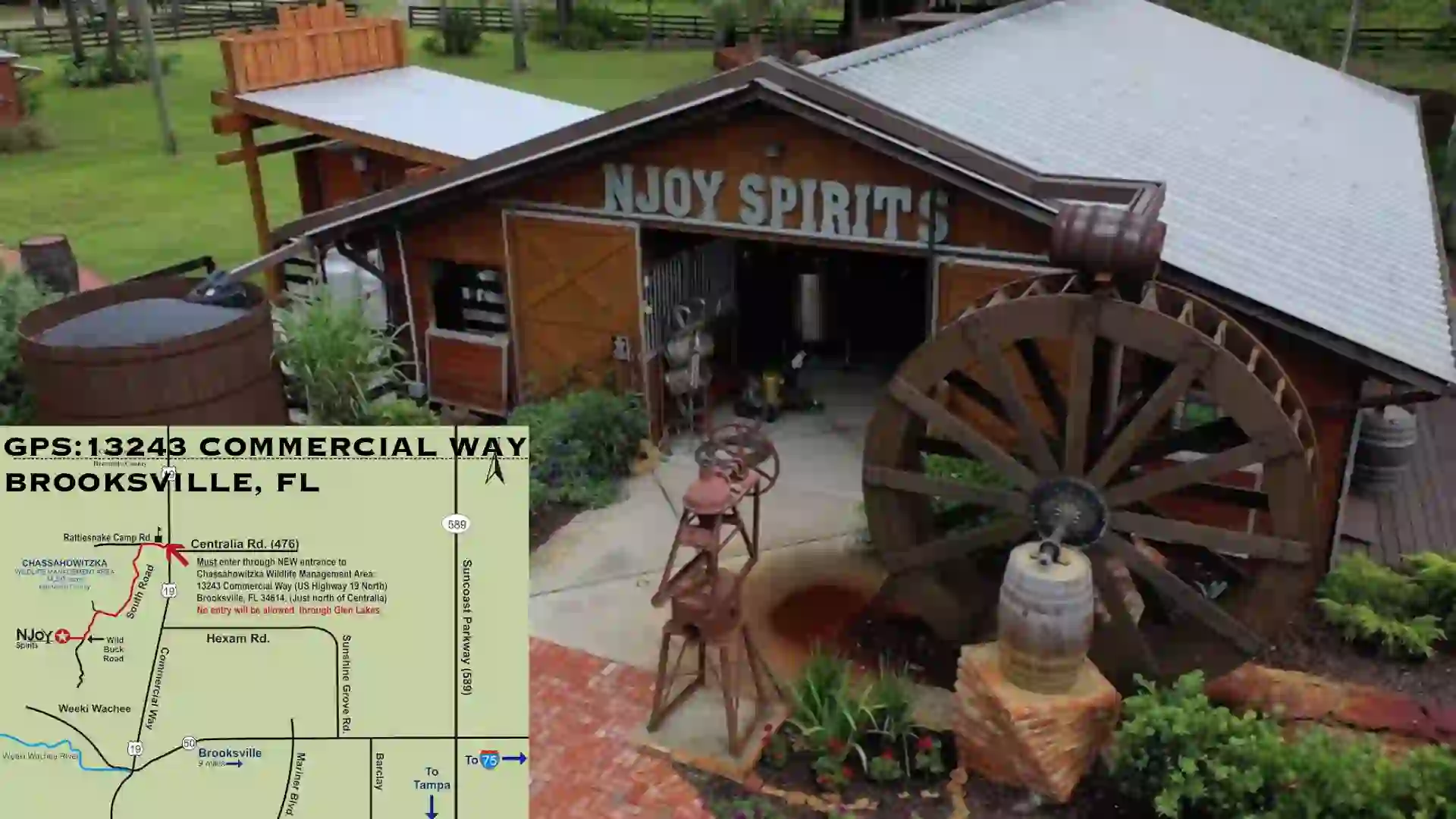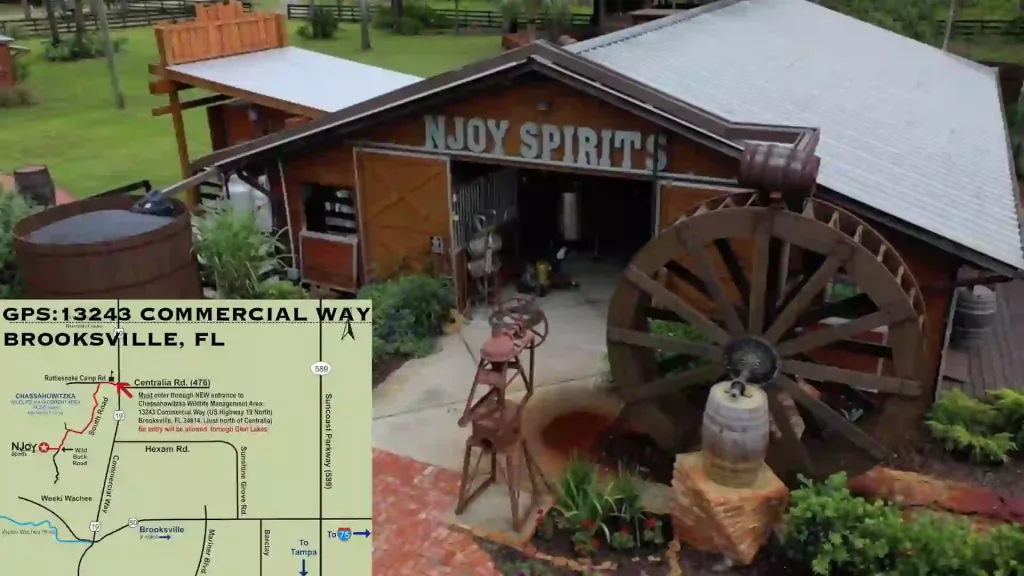 NJoy Spirits Distillery was founded in 2012 by Natalie and Kevin Goff. They bought 80 acres inside the Chassahowitzka Wildlife Management Area on which they formed Goff Ranch, home of NJoy Spirits Distillery.

NJoy Spirit's Distillery is a family-operated Florida Rye Whiskey distiller in the heart of the nature coast. We wanted to make America's finest 100% Rye Whiskey when we started making our Wild Buck American Rye Whiskey! We are confident we have achieved that (and Wild Buck Whiskey has many awards to prove it!) and have no doubt you'll agree with just one sip!

Wild Buck Rye Whiskey is smooth, bold, handmade, and bottled at 100 proof. We start by fermenting a mash of 100% farm-fresh rye grain. We grind and cook it daily, one batch at a time. We add no artificial flavorings or color and use only purified ultraviolet filtered rainwater. At NJoy Spirits, we never rush our Rye Whiskey into a bottle. Our Rye Whiskey is aged in custom-made new charred American Oak barrels and developed in the Florida climate. The American Oak barrels give our final product a deep rich flavor with a hint of spice that only grows with time using a smaller barrel – the way Whiskey used to be aged.

Kevin Goff and Natalie Goff started making Wild Buck Rye Whiskey in 2010, and it became available to RNDC in April 2012.

We decided to start distilling Mermaid Rum in 2016 since we added to our property to grow sugarcane. Cane is like grass/bamboo, which grows in most soils. We quickly began racking up many Gold Medal Awards from prestigious groups.

We started the Ryes-In-Shine Moonshine in 2017. As you know, Moonshine is the same thing as Whiskey – just never aged in oak barrels and higher proof, and people asked for it, so that is why we decided to bottle that product.

We wanted to make products that used crops we could grow here on our farm. The type of corn we tried to make Bourbon with wasn't growable in Florida, so we chose the 401 black rye, which quickly grows here instead. Our soil is very sandy and not rich. We have had to supplement the Florida soil with many tons of compost for years.

We are very proud that our Wild Buck Rye Whiskey, Mermaid Rum, and Ryes-In-Shine Moonshine have become a reality through many years of trial and error! We realize patrons are the key to our success. If the liquor store you frequently visit does not carry them, kindly ask them to call our distributor (See Shop > Where to Buy).

"Tour & Tastings" of all three of our Florida-grown and made "Wild Buck Whiskey," "Mermaid Rum," and "Ryes-In-Shine Moonshine" is $8/Adult, but the fee is 100% credited towards our Whiskey, our Rum, or our Moonshine bottle purchase.

Walk around and see where we grow our 100% Rye for ourAward-Winning 100-Proof Wild Buck Rye Whiskey, 150-Proof "Ryes-In-Shine Moonshine," and the Sugar Cane for our Award-Winning 100-Proof Mermaid Rum.

Children are welcome but by law are not allowed in the Tour, Tasting, or Bar areas.

For the safety of all, No Pets are allowed to be brought by visitors onto NJoy Spirits LLC Distillery property. Only Service Animals that comply will all rules set forth on the ADA.gov website and are "Always-on-a-Leash" are allowed on NJoy Spirits LLC Distillery property.

Thanks again for your support. We are growing and would like to hear from you – please use the Contact Us page on our website.

OPEN TO THE PUBLIC: ONLY SATURDAY AND SUNDAY 11 am to 6 pm.

We hope to see you this Weekend, Rain or Shine!

NJoy Responsibly!

NJoy Spirit's – Wild Buck Whiskey DSP-FL-20005

DIRECTIONS – GPS: 13243 Commercial Way, Brooksville, FL
DON'T USE OUR MAILING ADDRESS IN YOUR NAV SYSTEM. DIRECTIONS ARE INCORRECT!
Our GPS address is the entrance to Chassahowitzka Wildlife Management Area and is the ONLY WAY to get to NJOY SPIRITS DISTILLERY.
NO ENTRANCE TO NJOY SPIRITS DISTILLERY THROUGH THE GLEN LAKES SUBDIVISION!
No entrance fee for NJoy Spirits Distillery visitors.
Follow the NJOY signs for ~5 miles to the entrance of Goff Ranch, home of NJoy Spirits Distillery.