FLORIDA MERMAID RUM OVERPROOF RUM
Those who have tried our Florida-grown Sugarcane, 100-Proof 'Mermaid Rum" say You'll Never Go Back to Myers, Cruzan, Bacardi's, or Captain Morgan!
OUR FLORIDA MERMAID RUM AWARDS
Tap Award Medal to Learn More!
HOW WE GROW OUR
FLORIDA MERMAID RUM OVERPROOF RUM
It starts with Planting, Tending, then Harvesting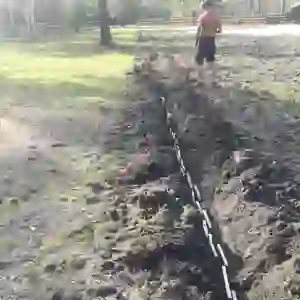 1: CLEAR & PLANT
Sugar cane is in the same family as grass and grows in tall, narrow stalks or canes. Sugar cane is planted in ruts on its side in the fall.
It requires no maintenance over the winter, and in spring, you'll be greeted with sugar cane sprouts that will grow as tall as bamboo.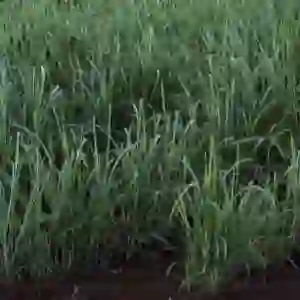 2: GROW
Since sugar cane is a type of grass, it thrives on nitrogen-rich fertilizers. You can fertilize the sugar cane plants with a standard grass fertilizer.
Fertilizing just once, when the sprouts first emerge, will help the sugar cane grow strong and healthy, so you'll have a good harvest in the fall.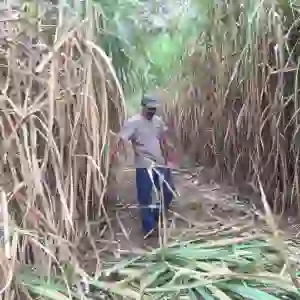 3:HARVEST
Sugar cane plants should be left to grow for as long as possible before the first frost of the year.
The mature stalks will be tall and thick, similar to bamboo.
We use a machete to cut the sugar cane as close to the ground as possible. We cut around November or December. The field is replanted every 3 years.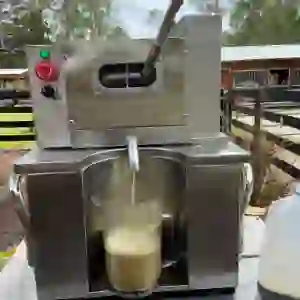 4: MAKE SYRUP
Yes, we have a donkey, but we don't make it work a cane squeezer!

We use an electric squeezer to maximize the juice from each cane stalk.

The donkey loves the cane juicer! 
HOW WE MAKE OUR
FLORIDA MERMAID RUM OVERPROOF RUM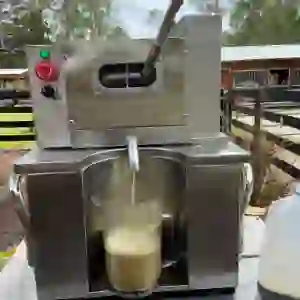 1: SQUEEZING OF THE CANE
We use a commercial automated juicer to "squeeze the juice" from each cane stalk.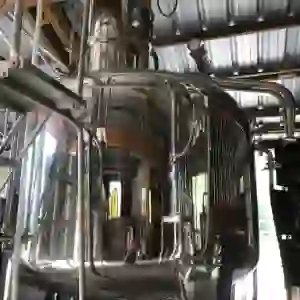 2: FERMENTING
After the cane juice is extracted, it ferments in an open stainless steel tank for 48 hours – enzymes and yeast are added.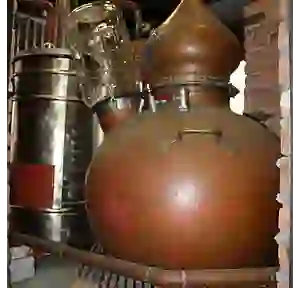 3: DISTILLATION
Once finished, it's transported by a pump into our copper pot still for a 16-hour distillation process.

We add a small amount of Caribbean rum to the finish, which is our secret. This is the final process until maturation.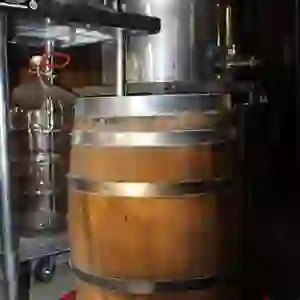 4:BARRELING
Once finished in the copper pot still – the Rum is transferred into our "once-used" rye whiskey barrels.

Mermaid Rum is considered as an Agricole Rum – found most commonly in the islands.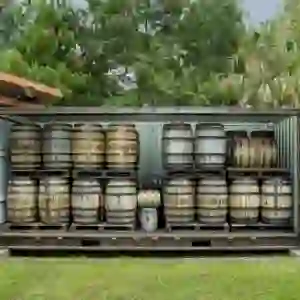 5: AGING
We age our Mermaid Rum for a minimum of 3 1/2 years. This gives the rum a spice note which lessens some of the sugar notes on the rum.
Most rums are also 60 proof or less, whereas Florida Mermaid Rum is 100-Proof. 100-Proof is so that if the rum is mixed in a cocktail, the rum component can be tasted.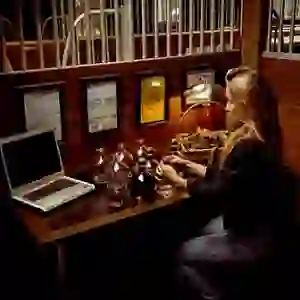 6: BOTTLING
After 3-1/2 years of aging in Once-Used for Whiskey aging American Oak barrels, we do a bottling, one barrel at a time.

We hand-label and cork one bottle at a time, giving each bottle its own personal finish.
FLORIDA MERMAID RUM OVERPROOF RUM
FAQ
Rum is a liquor made by fermenting then distilling sugarcane molasses or sugarcane juice. The distillate, a clear liquid, is usually aged in oak barrels. Most rums are produced in the Caribbean and North and South American countries, and other sugar-producing countries, such as the Philippines and Taiwan.

At NJoy Spirits Distillery, we grow sugarcane on our property. Our Sugarcane is grown in Florida, from which we make our Mermaid Rum.

Rums are produced in various grades. Light rums are commonly used in cocktails, whereas "golden" and "dark" rums were typically consumed straight or neat, iced ("on the rocks"), or used for cooking, but are now commonly consumed with mixers. Premium rums are made to be consumed either straight or iced.

NJoy Spirits Distillery Mermaid Rum is a premium rum. It tastes great straight up, on the rocks, or mixed into a cocktail. Mermaid Rum is 100-Proof (50 ABV), whereas most of our competitors are 60-Proof (30 ABV). Our higher ABV allows a better flavor when drank straight up or on the rocks. At 100-Proof, our Mermaid Rum will enable you to "taste the rum" when mixed into a cocktail. Being 100-Proof is one reason our Mermaid Rum stands out.

Rum plays a part in most islands of the West Indies, the Maritime provinces, and Newfoundland in Canada. The beverage has famous associations with the Royal Navy (mixed with water or beer to make grog) and piracy (consumed as bumbo). Rum has also served as a popular medium of economic exchange, used to help fund enterprises such as slavery (see Triangular trade), organized crime, and military insurgencies (e.g., the American Revolution and Australia's Rum Rebellion).

FERMENTATION

Most rum is produced from molasses, which is made from sugarcane. A rum's quality depends on the quality and variety of the sugar cane used to create it. The sugar cane's quality depends on the soil type and climate that it was grown. Within the Caribbean, much of this molasses is from Brazil. A notable exception is the French-speaking islands, where sugarcane juice is the preferred base ingredient. 

Yeast and water are added to the base ingredient to start the fermentation process. While some rum producers allow wild yeasts to perform the fermentation, most use specific yeast strains to help provide a consistent taste and predictable fermentation time. Dunder, the yeast-rich foam from previous fermentations, is the traditional yeast source in Jamaica. Distillers that make lighter rums, such as Bacardi, prefer to use faster-working yeasts. The use of slower-working yeasts causes more esters to accumulate during fermentation, allowing for a fuller-tasting rum.

DISTILLATION

As with all other aspects of rum production, no standard method exists for distillation. While some producers work in batches using pot stills, most rum production uses column still distillation. Pot still output contains more congeners than the output from column stills, so produces fuller-tasting rums.

AGING & BLENDING

Many countries require rum to be aged for at least one year. This aging is commonly performed in used bourbon casks but may also be performed in other types of wooden barrels or stainless steel tanks. The aging process determines the color of the rum. It becomes dark when aged in oak casks, whereas rum aged in stainless steel tanks remains virtually colorless.

Due to the tropical climate, familiar to most rum-producing areas, rum matures at a much higher rate than whisky or brandy. An indication of this higher rate is the angels' share or amount of product lost to evaporation. While products aged in France or Scotland see about a 2% loss each year, tropical rum producers may see as much as 10%. In the warm Florida climate, in 3-1/2 years of barrel aging, we can lose up to 20%.

After aging, rum is usually blended to ensure a consistent flavor, the final step in the rum-making process. During blending, light rums may be filtered to remove any color gained during aging. For dark rums, caramel may be added for color.

While aging in wooden casks, primarily American and French oak casks, rum undergoes six processes contributing to its final flavor: extraction, evaporation, oxidation, concentration, filtration, and coloration. Extraction in particular results in rum acquiring several compounds, including aldehydes and vanillin, vanillic acid, and syringaldehyde. Distillers will sometimes age their rum in whiskey barrels (we do) to impart particular flavors.

PACKAGING

Most rums are sold at or near an alcoholic strength of 30% abv  – although the strength can vary, and cask-strength rum may have as much as twice that alcohol percentage. Our Mermaid Rum is 100-Proof (50% ABV), making is a rare rum worldwide.)

NJOY SPIRITS DISTILLERY PRODUCTS
(Tap to View)