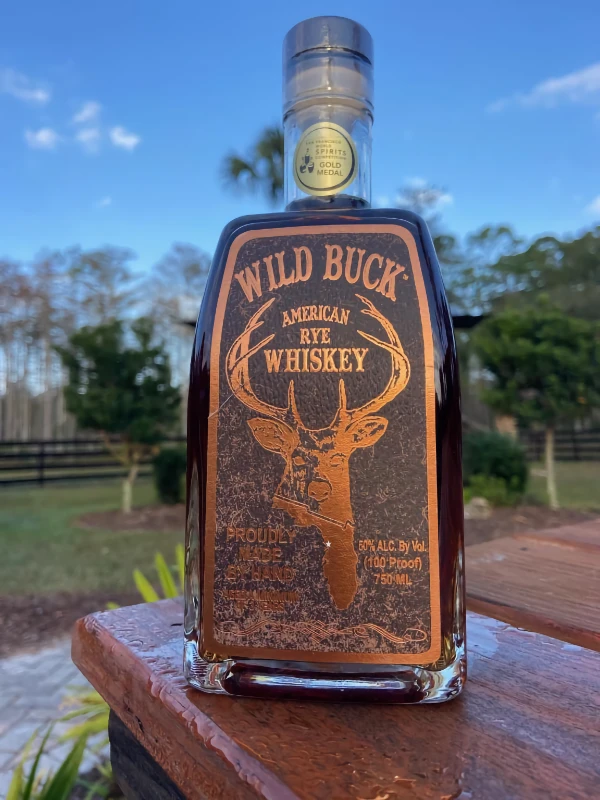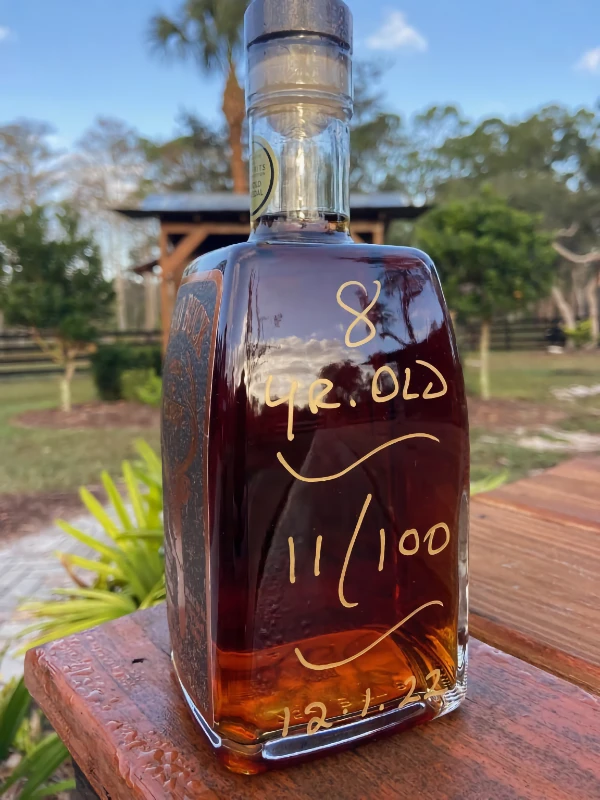 2022 – 8 YEAR OLD BARREL AGED WILD BUCK WHISKEY
We Have Something Special for Our Customers!
We Saved One of Our Our Finest Barrels of Our Award-Winning Wild Buck Whiskey for Eight (8) Years.
We Decided it Was Time to Share This Incredible Cask with Our Customers.
Because We Kept this Wild Buck Whiskey in its Cask for 8 Years, It Tastes Like 12+ Year Aged Whiskey.
Deep In Rich Color – This Delicious Whiskey Has Subtle Notes Of Cherry And Chocolate With A Beautiful Molasses Finish.
100-Proof Wild Buck Whiskey.
Exclusively – Numbered And Limited Bottles Signed by the Distiller are Available.
We Have Only Been Able To Bottle 50 Bottles Of This Whiskey To Date.
If Someone Wants A Bottle To Be Held For Next Week Pick Up, It Has To Be Paid In Full In-Person the Weekend Prior.
We Do Not Ship Bottles. Cash Or Credit Card Accepted.
Thanks Again, Natalie & Kevin
(Owners, NJoy Spirits Distillery)

ONLY $99/Bottle Until They're GONE!!!
CLOSED SAT & SUN JULY 15 & 16, 2023
FOR A PRIVATE EVENT
WE RE-OPEN SAT JULY 22 & 23, 2023
HOURS – OPEN: SATURDAY & SUNDAY ONLY – OPEN AT 11:00 AM

#1 BEST FLORIDA WHISKEY DISTILLERY RUM DISTILLERY
*** WE ARE FULLY OPEN THIS WEEKEND POST IDALIA! COME OUT AND "NJOY" ***
COME OUT AND ENJOY YOUR WEEKEND AT ONE OF OUR TWO ON-SITE OUTDOOR BARS WITH A CRAFT BEER (OR TWO), WINE, SANGRIA, MARGARITAS, HOT DOGS, SNACKS, & SOFT DRINKS, WHILE YOU RELAX WITH FRIENDS & FAMILY ENJOYING ALL OUR OUTDOOR GAMES & A TOUR & TASTING OF OUR AWARD-WINNING SPIRITS!
HOURS – OPEN: SATURDAY & SUNDAY ONLY – OPEN AT 11:00 AM
CLOSED M-F – LAST TOUR STARTS AT 5:00PM
AS OF JULY 2022 YOU CAN BUY UNLIMITED BOTTLES OF OUR RUM, WHISKEY, & MOONSHINE!!!
SCHEDULE YOUR HOLIDAY EVENT VENUE SPACE NOW!
BIRTHDAY, ANNIVERSARY, MEMORIUMS, WEDDING, BACHELOR(ETTE) PARTY & MORE.
OUR WEEKEND EVENTS
View Our Events Page on Facebook
NJOY SPIRITS – A SMALL FLORIDA BUSINESS
NJOY SPIRITS DISTILLERY – Your Florida Craft Whiskey, Rum & Moonshine Distillery that is so much more!

Check our Events Schedule (https://NJoySpiritsDistillery/Events) and come for a visit Saturday & Sundays (Closed M-F). Starting at 11:00am, come and see all the FUN THINGS you can experience at NJoy Spirits Distillery!

2022 FL Law Change: You can now buy UNLIMITED BOTTLES of our Wild Buck Whiskey, Mermaid Rum, and Ryes-In-Shine Moonshine!
Please "Like" or "Share" Your Experience at NJoy Spirits Distillery on Social Media. This greatly helps others like you discover us!

HOW TO FIND NJOY SPIRITS DISTILLERY SPRING HILL FL
The ONLY ENTRANCE to NJoy Spirits Distillery is at 13243 Commercial Way, Brooksville, FL, off I-19 at Rattlesnake Camp Road. Our entrance is shared with the Chassahowitzka Wildlife Management Area Entrance.

FREE ENTRANCE FOR NJOY SPIRITS DISTILLERY VISITORS! Follow the "small signposts" to NJoy Spirits Distillery – Goff Ranch (~ 5 miles).

The WAZE app (

https://bit.ly/3LpzYBV

) will take you directly to NJoy Spirits Distillery. In the "Where to" Waze App field, just type NJoy Spirits Distillery (7237 Wild Buck Road, Spring Hill, FL.)

Google Maps, Apple Maps, and most In-Car Navigation systems will give you incorrect directions to a Private Residential Entrance, which you CAN NOT USE to get to NJoy Spirits Distillery. See a paper map at: https://njoyspirits.com/1-best-location-map-njoy-spirits-llc/ .

Tap the button below to open up Waze on your phone for Accurate Directions.
TAKE A DRONE TOUR OF NJOY DISTILLERY
#1 BEST FLORIDA WHISKEY DISTILLERY RUM DISTILLERY
OUR WHISKEY, RUM & MOONSHINE AWARDS
DISTILLERY PROFESSIONAL REVIEWS
DISTILLERY VISITOR REVIEWS
GOOGLE REVIEWS
Frank D'Ambrosio
2023-07-03
I have been to a lot of different locations but this is literally one of the most beautiful. The people are so chill. You literally feel like you're on a gorgeous ranch in the middle of nowhere with really good drinks and activities. Animals everywhere. Make sure that the car is not clean before you go or you are ready to wash it soon after... because the road there is in the middle of the preserve.
Absolutely an amazing place to visit. The grounds are beautiful and the staff are just as beautiful loving and caring as can be. They are always having some sort of event going on and even if there isn't it's still an amazing place to visit. They have top notch service and products. You won't be disappointed!! 😎✨
Jerry Grocholski
2023-05-21
Such a cool place. Great family atmosphere, very friendly staff, very informative tour, excellent whiskey, take the tour and learn something. Hidden gem, long dirt road drive, but worth it.
Richard Blackburn
2023-05-15
Amazing place! Go out of your way to visit. Great little bar, interesting tour, great tasting, amazing Rye & Rum. Go here, you will not regret it
My family had a great time at NJoy. We played corn hole ,horse shoes had drinks and the weather was just beautiful. We will return.
It's worth a visit. Had a great time.
Absolutely beautiful property! Enjoyed the tour and tasting. Wish we lived closer so we could come back for the live music!
NJOY SPIRITS DISTILLERY
FACEBOOK POSTS
NJoy Spirits Distillery
80 Acre Farm Distillery of Wild Buck Whiskey, Mermaid Rum, & Ryes in Shine Moonshine. Tour & Tasting
NJOY SPIRITS DISTILLERY
INSTAGRAM POSTS
FLORIDA DISTILLER SPRING HILL
RYE WHISKEYDISTILLERY
SUGARCANE RUMDISTILLERY
RYES-IN-SHINE MOONSHINEDISTILLERY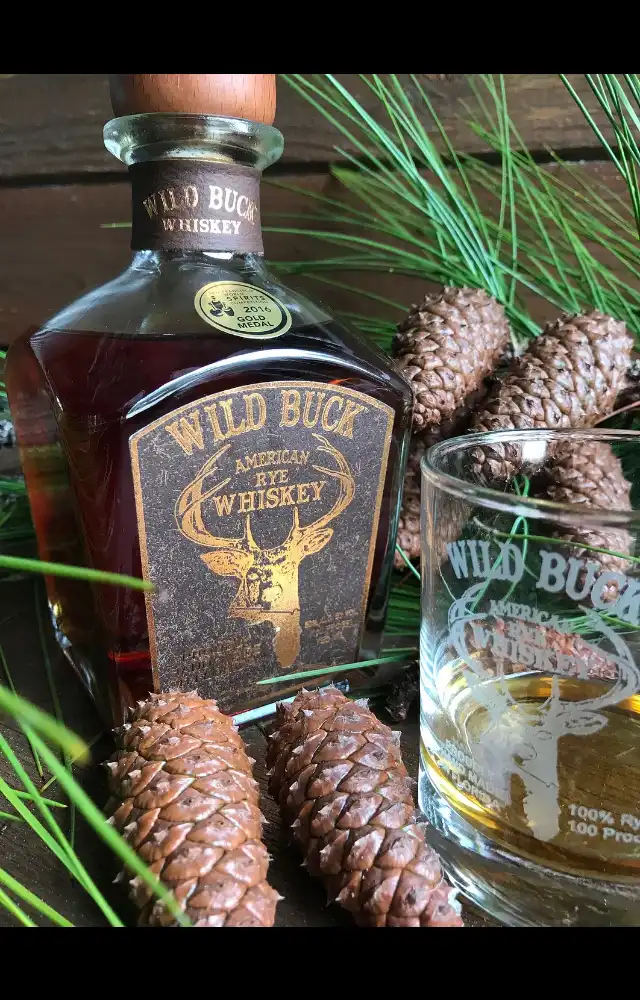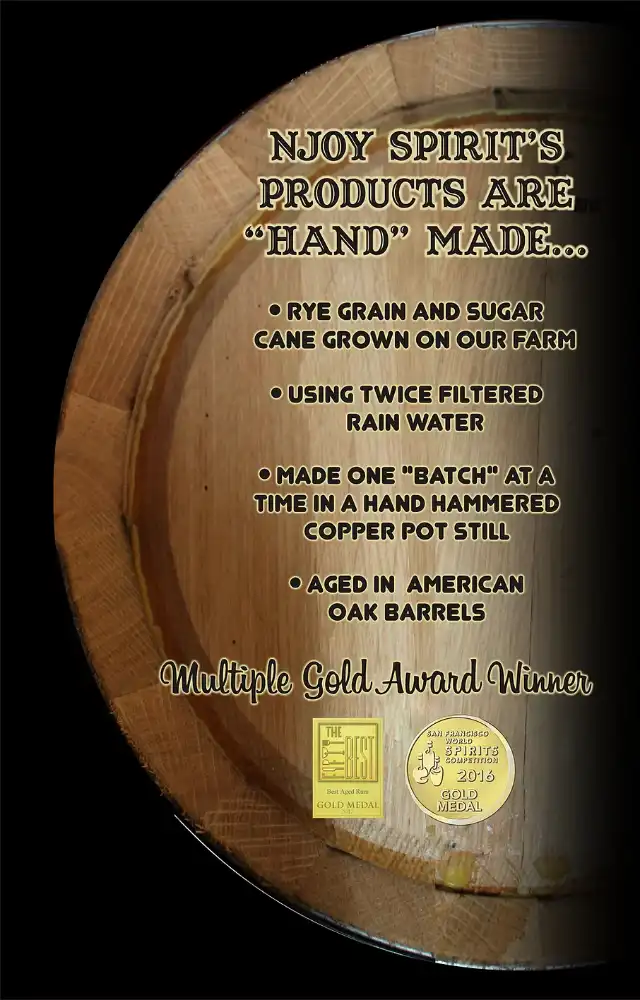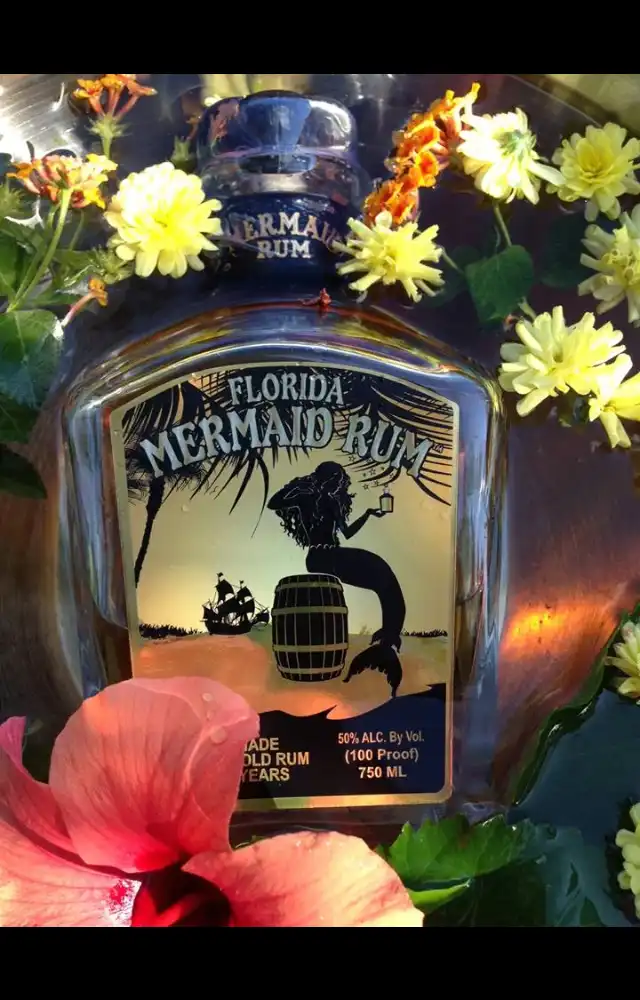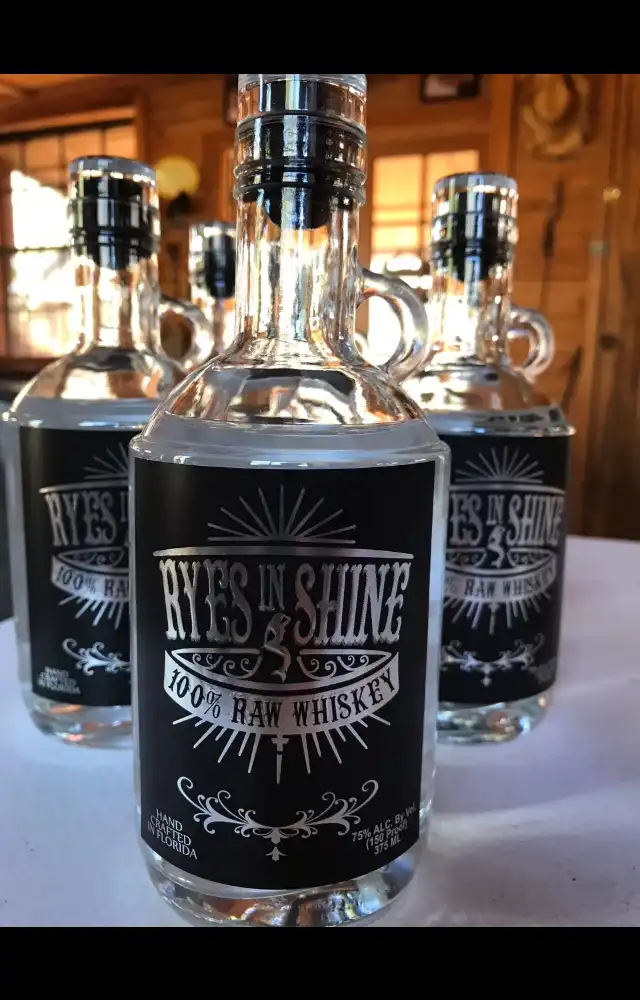 #1 BEST FLORIDA WHISKEY DISTILLERY RUM DISTILLERY
FAQ
DISTILLERY TOUR AND TASTING SPRING HILL FL
NJOY SPIRITS DISTILLERY
BLOG POSTS
WATERMELON MOONSHINE DAIQUIRI COCKTAIL – RYES-IN-SHINE MOONSHINE Back in the day, moonshine was made during the night; that's why they're called "Moonshiners"! Watermelon is more of a summertime snack, so let's mix these two contrasting night-day events and make a…