WEDDING EVENT SPACE NJOY SPIRITS DISTILLERY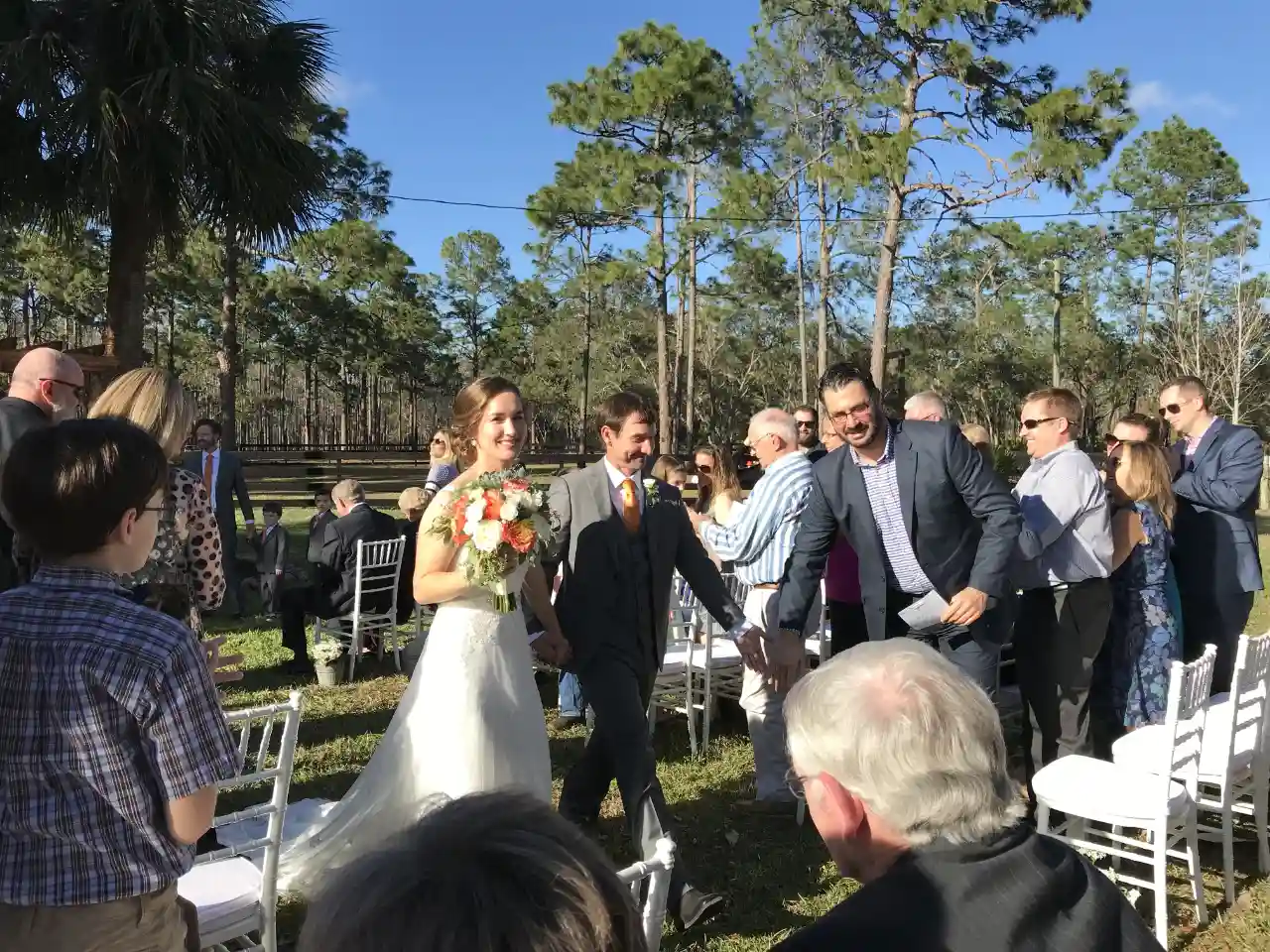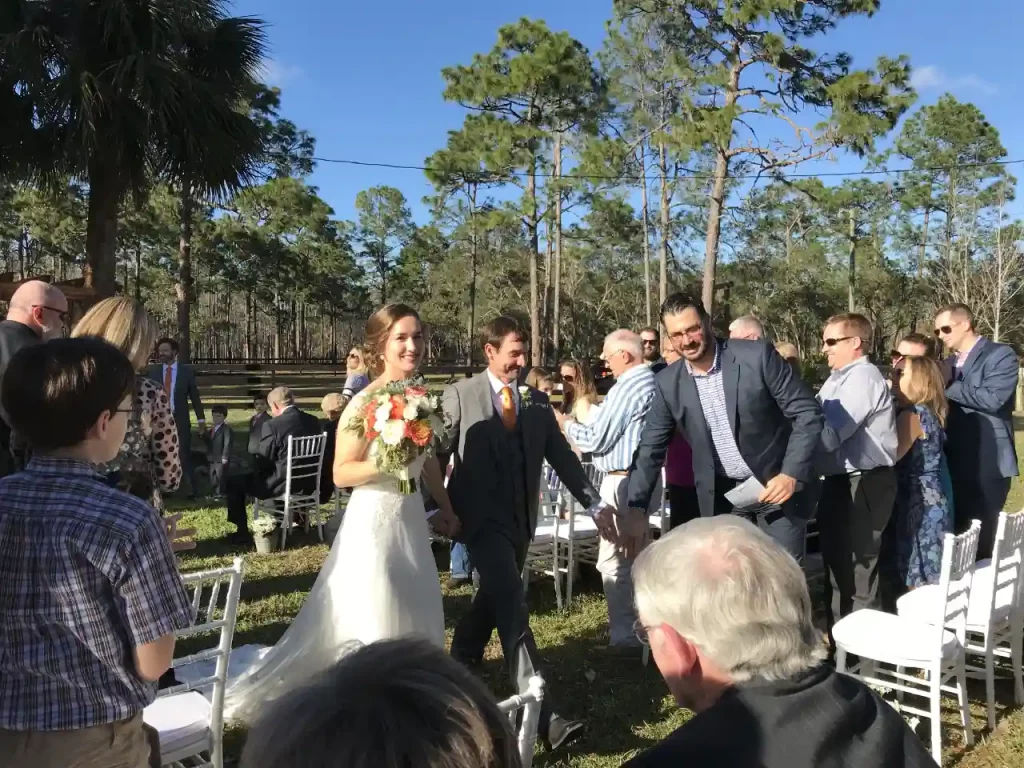 WEDDING EVENT SPACE NJOY SPIRITS
If you are looking for a Wedding Event Space in Hernando County that has not only a scenic backdrop that sings of our Southern charm but also has facilities to entertain your guests, NJoy Spirits Distillery should be at the top of your list.

Hold your Wedding Event Space at Njoy Spirits will be a Wedding surrounded by beautiful plants and wildlife, providing spectacular Old Florida landscapes for a Garden Wedding, or on our stage in front of friends and family.

Central Florida beauty is on display year-round at Wedding Event Space wedding at Njoy Spirits and is guaranteed to boost the visual appeal of the Happy Wedding Event. Whether it is an intimate gathering or a larger affair, your Wedding guests will enjoy ample parking and plentiful shade, courtesy of our covered seating areas.

Contact our team at Wedding Event Space at Njoy Spirits to learn more about availability, policies, and rates for your west Central Florida Wedding Event. Our greater Tampa area Wedding Event Space Venue is just outside the heart of downtown Brooksville in Hernando County, is a fitting place for your wedding.
What's Included in a Wedding Event Space Njoy Spirits Rental?
Please note that these prices at Wedding Events Njoy Spirits may change at any time.  
Book a tour now to reserve your Wedding Events Njoy Spirits date at the current price.
WEDDING EVENT SPACE PACKAGE #1
$4,999.

00

++ to $6,999.

00

++
Only 1 Wedding Per Day ensures that the Bride and Groom receive our undivided attention so that they have a day that they will never forget!
FRIDAY
Wedding 10:00 am – 2:00 pm
(Setup 8:00 – 10:00 am)
(Tear Down: 2:00 – 4:00 pm)

SATURDAY (OPTION 1)
Wedding 10:00 am – 2:00 pm
(Setup 8:00 – 10:00 am)
(Tear Down: 2:00 – 4:00 pm)

SATURDAY (OPTION 2)
Wedding 4:00 pm – 8:00 pm
(Setup 2:00 – 4:00 pm)
(Tear Down: 8:00 – 10:00 pm)

SUNDAY
Wedding 10:00 am – 2:00 pm
(Setup 8-10 am)
(Tear Down: 2:00 – 4:00 pm)

CLOSED:
Dec 20 thru Jan 2
ADULTS IN PARTY
Up to 500 persons
FRIDAY PRICE
$4,999.00 Base Price
Jan 2 thru Nov 23

SATURDAY PRICE
$6,999.00 Base Price
Jan 2 thru Nov 23

SUNDAY PRICE
$6,999.00 Base Price
Jan 2 thru Nov 23

HOLIDAY PRICE
$6,999.00 Base Price
Nov 24 thru Jan 1
Base Price Includes:
● $150 Group Wildlife Management Access Fee (FWC Fee)
● Use of Public Common Areas
● Use by Up to 100 Persons
● NJoy Spirits will be closed to all other parties, including our normal Tour & Tasting

Additional Costs:
● $150 per Bartender for every 100 Adults and use of our Bung Hole Bar
1-100: $150 (1 bartender)
101-200: $300 (2 bartenders)
201-300: $450 (3 bartenders)
301-400: $600 (4 bartenders)
401-500: $750 (5 bartenders)
● $400 per (Handicapped) Porta Potty and Wash Station. Required after the first 50 and every 75 people thereafter.
1-50: Our Public Restroom
51-125: $400 (1+1 Potty + Wash)
126-200: $800 (2 Each)
201-275: $1200 (3 Each)
276-350: $1600 (4 Each)
351-425: $2000 (5 Each)
426-500: $2400 (6 Each)
● $100 Garbage removal and cleanup fee for first 100 guests. $50 each additional group of 1 to 50 guests.
● Your Professional Wedding Planner is Responsible for all other items not listed above. Your responsibility includes but is not limited to: Tents, Chairs, Tables, Catering, Air-Conditioned Trailers (for Bride/Groom Changing), Food Trucks, and Event Management.
NOTES:
RESERVATIONS
REQUIRED!

All Private Events require 100% Pre-payment at the Time of Reservation.

No Refunds for Any Reason
Minimum Booking 4 Weeks In Advance of Event
A Professional Wedding Planner Is Required. All Interface With NJoy Spirits For Your Wedding Event After You Rent The Space Will Be Through The Professional Wedding Planner Only. Sorry, No Mom's, Sisters, Or Best Friends Qualify as a Professional Wedding Planner.
Only Champagne for the Wedding can be brought to the Event. No other Beer, Wine, or Liquor of "any type" may be brought into NJoy Spirits. The event will be canceled if violated with NO REFUND.

All coolers and boxes are subject to search — Liquor License Laws.

No Mylar or Aluminum Balloons Allowed!

No Tinsel

NO FIREWORKS!

ABSOLUTELY NO SIGNS TO BE PLACED ON PARK ROADS! $500 FEE WILL BE CHARGED TO CREDIT CARD ON FILE FOR VIOLATION.

INSTRUCT GUESTS TO USE PAPER MAP OR WAZE APP WHICH WILL TAKE YOU RIGHT TO OUR FRONT DOOR. OTHER APPS AND IN-AUTO NAV SYSTEMS MAY GIVE INCORRECT DIRECTIONS.
NJOY SPIRITS DISTILLERY PRODUCTS
(Tap to View)