Irish Coffee Cocktail Friday #1 Best
IRISH COFFEE COCKTAIL – WILD BUCK WHISKEY Per Wikipedia:Irish Coffee (Irish: Caife Gaelach) Is A Cocktail Consisting Of Hot Coffee, Irish Whiskey, And Sugar Stirred And Topped With Cream. The Coffee Is Drunk Through The Cream. Some claim it is the oldest known American cocktail, with origins in pre–Civil War New Orleans, although drink historian…
IRISH COFFEE COCKTAIL – WILD BUCK WHISKEY
Per Wikipedia:
Irish Coffee (Irish: Caife Gaelach) Is A Cocktail Consisting Of Hot Coffee, Irish Whiskey, And Sugar Stirred And Topped With Cream. The Coffee Is Drunk Through The Cream.

Some claim it is the oldest known American cocktail, with origins in pre–Civil War New Orleans, although drink historian David Wondrich is amidst those who dispute this, and American instances of published usage of the word cocktail to describe a mixture of spirits, bitters, and sugar can be traced to the dawn of the 19th century.

Different Variations Of Coffee Cocktails Pre-date The now-classic Irish Coffee By At Least 100 Years.

From The Mid-19th Century, The Pharisäer And The Fiaker Were Served In Viennese Coffee Houses; Both Were Coffee Cocktails Served In A Glass, Topped With Whipped Cream. The Former Was Also Known In Northern Germany And Denmark Around That Time. Around 1900, The Coffee Cocktail Menu In The Viennese Cafés Also Included Kaisermelange, Maria Theresia, Biedermeier-Kaffee, And A Handful Of Other Variations On The Theme.
In 19th-century France, A Mixture Of Coffee And Spirits Was Called A Gloria.

"Un Trait De Son Caractère Était De Payer Généreusement Quinze Francs Par Mois Pour Le Gloria Qu'il Prenait Au Dessert." (Balzac, Le Père Goriot, 1834, I.)
"Il Aimait Le Gros Cidre, Les Gigots Saignants, Les Glorias Longuement Battus." (Flaubert, Madame Bovary, 1857.)
Several Places Claim To Have Developed The Modern Recipe In The 1950s. One Version Is Attributed To A Joe Sheridan, Head Chef At The Restaurant And Coffee Shop In The Foynes Airbase Flying Boat Terminal (About 15km From Present-day Shannon Airport, County Limerick). In 1942 Or 1943, He Added Whiskey To The Coffee Of Some Disembarking Passengers.

A Travel Writer For The San Francisco Chronicle, Stanton Delaplane Maintains He Brought Irish Coffee To The United States After Drinking It At Shannon Airport. His Version Is That He Worked With The Buena Vista Cafe In San Francisco To Start Serving It On November 10, 1952., Sheridan Later Emigrated To Work At The Buena Vista Cafe.
INGREDIENTS: (IRISH COFFEE COCKTAIL) – 2 Servings
16 oz. – Hot Water
2 tsp. – Light Brown Sugar
1 cup – Brewed Coffee
2 oz. – Wild Buck Whiskey
1/2 cup – Heavy Cream for Topping
Chocolate shavings – For Garnish
DIRECTIONS: (IRISH COFFEE COCKTAIL)
Fill Two Mugs With Hot Water And Let Sit For 2 Minutes.
Pour Out The Water And Add 1 Tsp Light Brown Sugar To Each Mug.
Pour Over Hot Coffee And Stir To Dissolve Sugar, Then Pour In Whiskey.
In A Separate Bowl With An Electric Mixer Or Mix By Hand, Whisk The Cream Until Soft Peaks Form. The Cream Should Be Thick But Still Pourable.
Top Coffee With Cream By Gently Pouring Over The Back Of A Warm Spoon To Form A Thick Layer On Top Of The Coffee.
Garnish With Chocolate Shavings.
MMM… Irish Coffee Cocktail. MMM… Irish Coffee Cocktail. MMM… Irish Coffee Cocktail. MMM… Irish Coffee Cocktail. MMM… Irish Coffee Cocktail. MMM… Irish Coffee Cocktail. MMM… Irish Coffee Cocktail. MMM… Irish Coffee Cocktail. MMM… Irish Coffee Cocktail. MMM… Irish Coffee Cocktail.
"DRINK & NJOY!"
SATURDAY DECEMBER 4, 2021 – WHISKEY IN THE WOODS CONCERT AND FOOD FEST 11:00 am to 7:00 pm $30 TICKET SALES ENDING SOON – BUY BEFORE PRICES GO UP! – https://njoyspirits.com/event/whiskey-in-the-woods-event-2021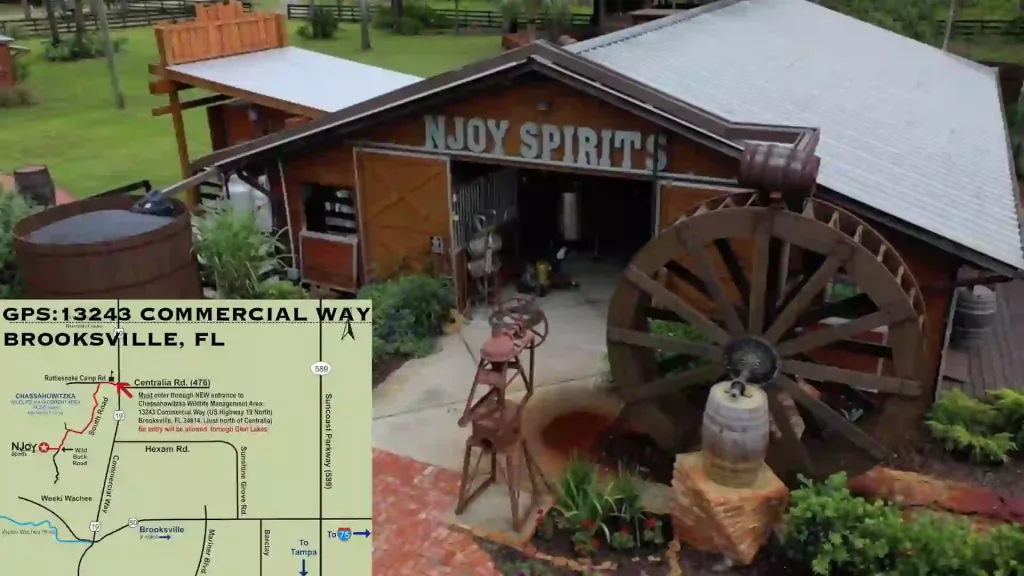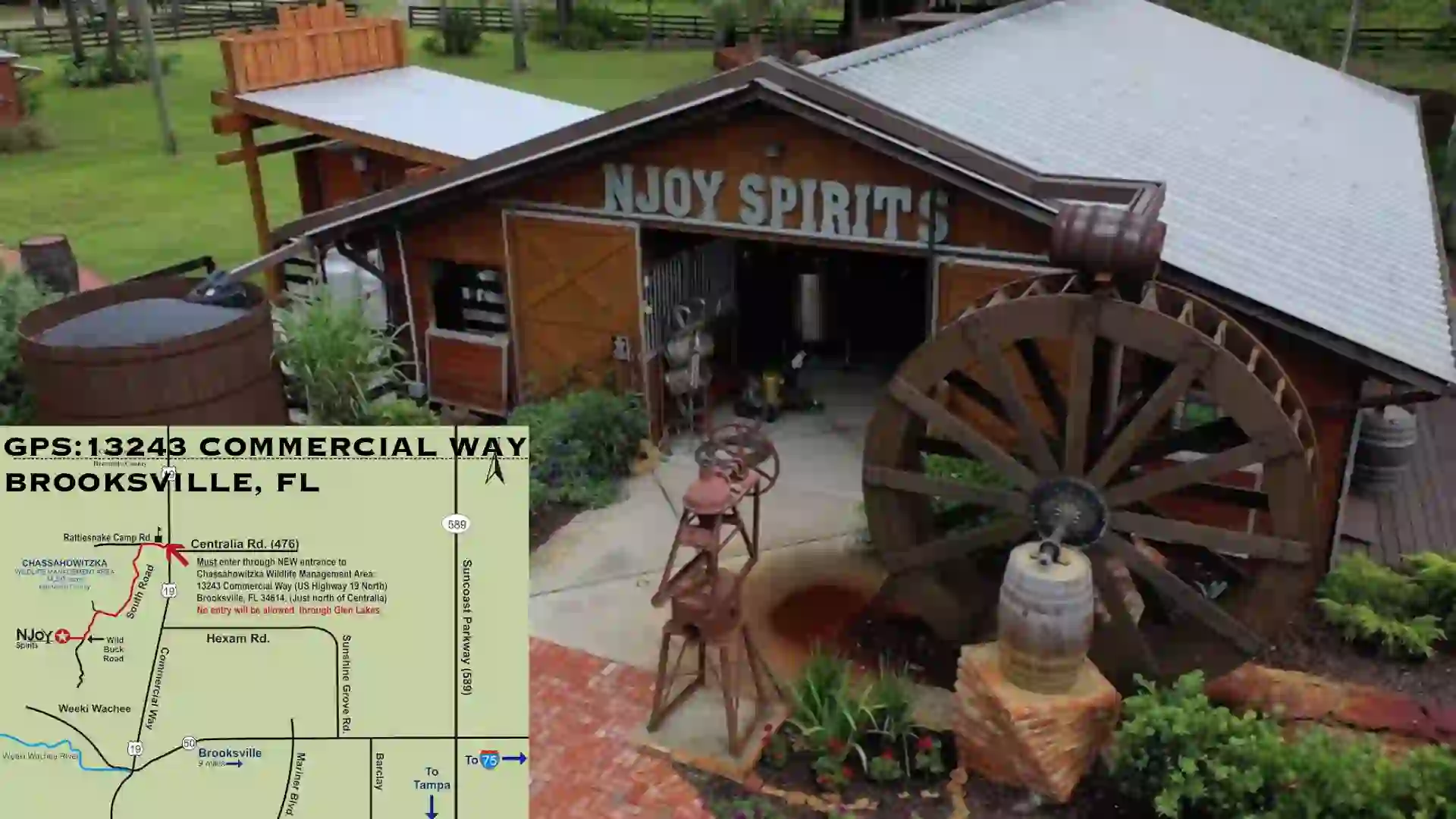 NJoy Spirits Distillery was founded in 2012 by Natalie and Kevin Goff. They bought 80 acres inside the Chassahowitzka Wildlife Management Area on which they formed Goff Ranch, home of NJoy Spirits Distillery.

NJoy Spirit's Distillery is a family-operated Florida Rye Whiskey distiller in the heart of the nature coast. We wanted to make America's finest 100% Rye Whiskey when we started making our Wild Buck American Rye Whiskey! We are confident we have achieved that (and Wild Buck Whiskey has many awards to prove it!) and have no doubt you'll agree with just one sip!

Wild Buck Rye Whiskey is smooth, bold, handmade, and bottled at 100 proof. We start by fermenting a mash of 100% farm-fresh rye grain. We grind and cook it daily, one batch at a time. We add no artificial flavorings or color and use only purified ultraviolet filtered rainwater. At NJoy Spirits, we never rush our Rye Whiskey into a bottle. Our Rye Whiskey is aged in custom-made new charred American Oak barrels and developed in the Florida climate. The American Oak barrels give our final product a deep rich flavor with a hint of spice that only grows with time using a smaller barrel – the way Whiskey used to be aged.

Kevin Goff and Natalie Goff started making Wild Buck Rye Whiskey in 2010, and it became available to RNDC in April 2012.

We decided to start distilling Mermaid Rum in 2016 since we added to our property to grow sugarcane. Cane is like grass/bamboo, which grows in most soils. We quickly began racking up many Gold Medal Awards from prestigious groups.

We started the Ryes-In-Shine Moonshine in 2017. As you know, Moonshine is the same thing as Whiskey – just never aged in oak barrels and higher proof, and people asked for it, so that is why we decided to bottle that product.

We wanted to make products that used crops we could grow here on our farm. The type of corn we tried to make Bourbon with wasn't growable in Florida, so we chose the 401 black rye, which quickly grows here instead. Our soil is very sandy and not rich. We have had to supplement the Florida soil with many tons of compost for years.

We are very proud that our Wild Buck Rye Whiskey, Mermaid Rum, and Ryes-In-Shine Moonshine have become a reality through many years of trial and error! We realize patrons are the key to our success. If the liquor store you frequently visit does not carry them, kindly ask them to call our distributor (See Shop > Where to Buy).

"Tour & Tastings" of all three of our Florida-grown and made "Wild Buck Whiskey," "Mermaid Rum," and "Ryes-In-Shine Moonshine" is $8/Adult, but the fee is 100% credited towards our Whiskey, our Rum, or our Moonshine bottle purchase.

Walk around and see where we grow our 100% Rye for our Award-Winning 100-Proof Wild Buck Rye Whiskey, 150-Proof "Ryes-In-Shine Moonshine," and the Sugar Cane for our Award-Winning 100-Proof Mermaid Rum.

Children are welcome but by law are not allowed in the Tour, Tasting, or Bar areas.

For the safety of all, No Pets are allowed to be brought by visitors onto NJoy Spirits LLC Distillery property. Only Service Animals that comply will all rules set forth on the ADA.gov website and are "Always-on-a-Leash" are allowed on NJoy Spirits LLC Distillery property.

Thanks again for your support. We are growing and would like to hear from you – please use the Contact Us page on our website.

OPEN TO THE PUBLIC: ONLY SATURDAY AND SUNDAY 11 am to 6 pm.

We hope to see you this Weekend, Rain or Shine!

NJoy Responsibly!

NJoy Spirit's – Wild Buck Whiskey DSP-FL-20005

DIRECTIONS – GPS: 13243 Commercial Way, Brooksville, FL
DON'T USE OUR MAILING ADDRESS IN YOUR NAV SYSTEM. DIRECTIONS ARE INCORRECT!
Our GPS address is the entrance to Chassahowitzka Wildlife Management Area and is the ONLY WAY to get to NJOY SPIRITS DISTILLERY.
NO ENTRANCE TO NJOY SPIRITS DISTILLERY THROUGH THE GLEN LAKES SUBDIVISION!
No entrance fee for NJoy Spirits Distillery visitors.
Follow the NJOY signs for ~5 miles to the entrance of Goff Ranch, home of NJoy Spirits Distillery.